Any device
AgentBase has specifically built interfaces for use on any device you choose. Being able to use AgentBase out on the road is a critical part of today's modern real estate agent business operations.
Desktop Version
Our latest desktop version has been re-designed to not only improve workflow, but to provide an overall better experience for the end user.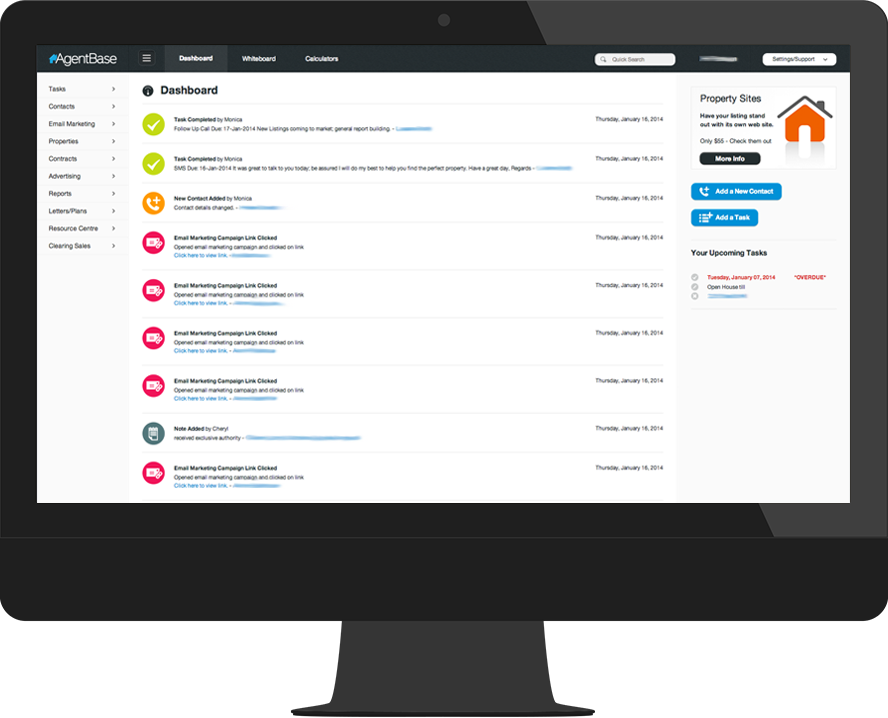 Clean and easy
90% of our clients require minimal training to start utilising the great features of our real estate software, AgentBase. This is due to the flow of the system and how it all starts from a contact.
Cloud Based
As most agents are now working out of the office, its imperative to have total access to your database no matter where you are.
You are dealing with people, not property
AgentBase is built around business logic, building relationships with real people. AgentBase is built to centre around the contact, as people move on to a number of properties, keeping in contact and building relationships with your clients is the key to success.
Tablet
Our tablet edition of AgentBase has usable features that will make you stand out from all the other real estate agents.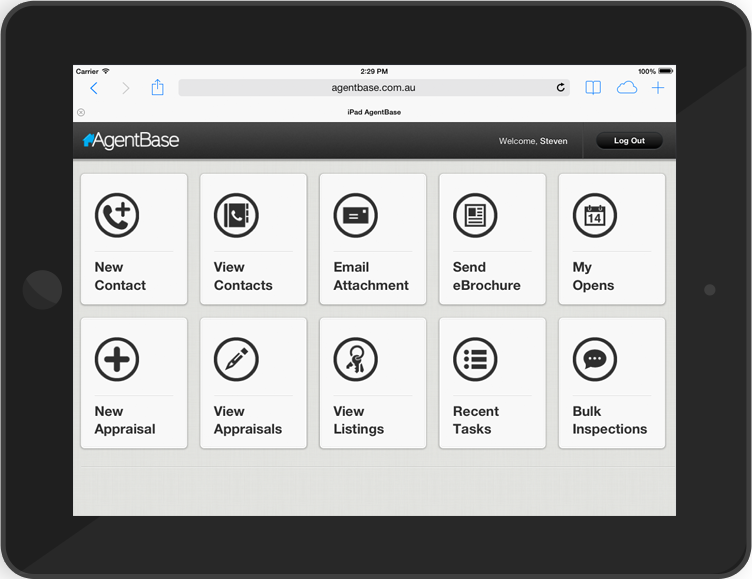 Buyer Direct Feedback
Automatically send an sms to the buyer going through the open to receive direct feedback from the buyer.
Inspection Register and Auto Buyer Preferences
Based on the property the buyer is inspecting, AgentBase automatically adds buyer preferences, which will allow auto matching to future appraisals and listings.
Inspection Booking System
Point your buyers to your web site to automatically capture their details, which already adds them as a contact to your database, saving you time at the open house. Just tap one button to show the buyer has attended the open house.
Email Contracts
Email directly from your tablet all relevant documents that are attached to listings or pending settlement properties.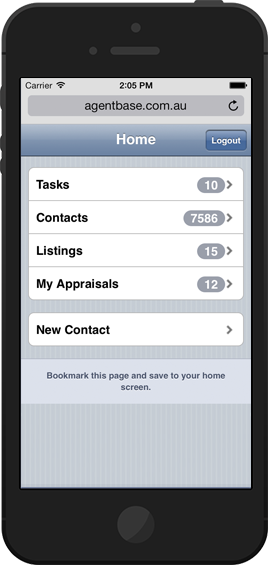 Smart Phone
Quickly look someone up and check out the history you've had with a client. AgentBase smart phone edition enables you be on the ball with client history at your finger tips.
Contacts
Have all your contacts and history information at your finger tips.
Listings
Present listings, with images with ease to potential buyers.
Send eBrochures
Send an eBrochure to a client with a few taps.
Appraisals
View all appraisals and historical information.